Chicken and Rice Casserole is the ultimate comfort food that both kids and adults love. Learn how to make a healthier and faster version in one pot! Giveaway at the bottom of the post.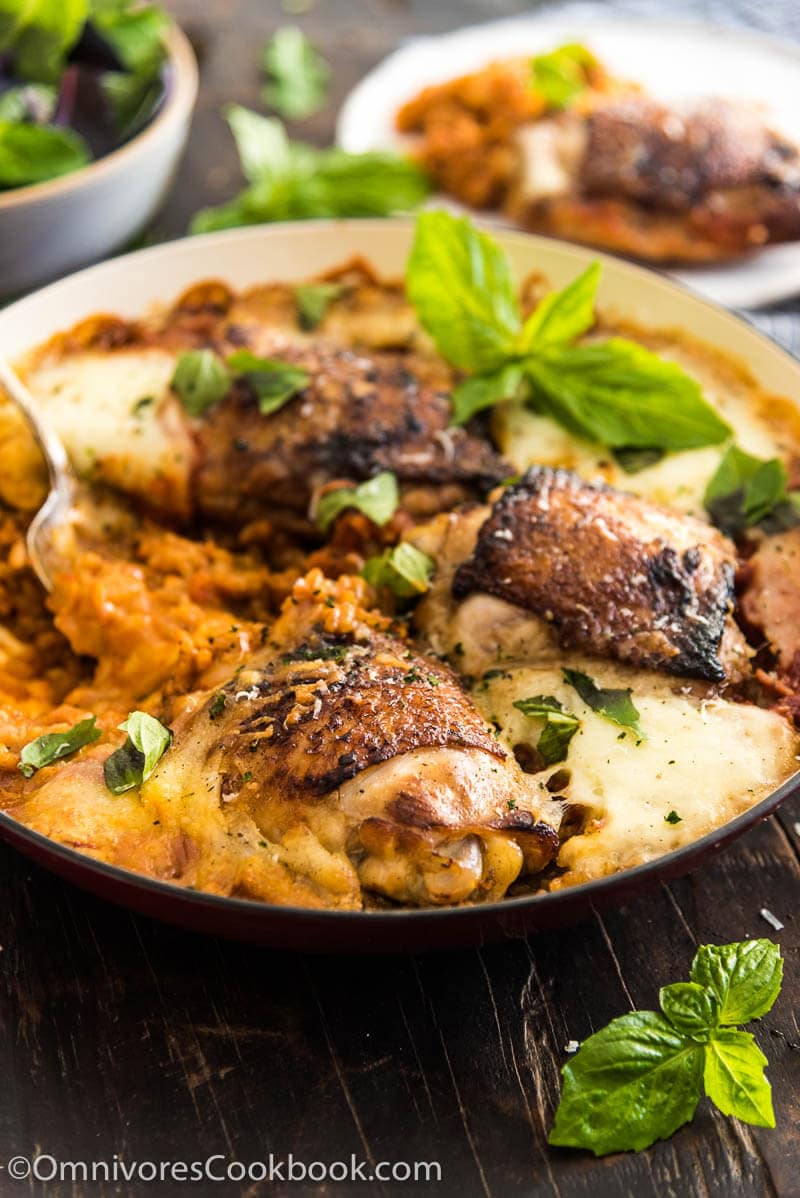 I lived in Hiroshima, Japan for two years, studying for my master's degree right after college. At  that point, I'd never lived outside my parents' house and had never traveled overseas. Living in and exploring Japan by myself was a big adventure. And of course, a big part of my adventure involved food.
As a poor student, I cooked at home most of the time, using cabbage and carrots, the cheapest ingredients I could find. But once in awhile, when I craved something different, I'd go eat outside. Saijo, a small college town, had fresh air, beautiful rice paddies, and peaceful streets. It did not offer many dining options.
Soon I discovered my comfort food at Joyful – a chain restaurant that offered Japanese and localized Western food at bargain prices, a ten-minute walk from my apartment.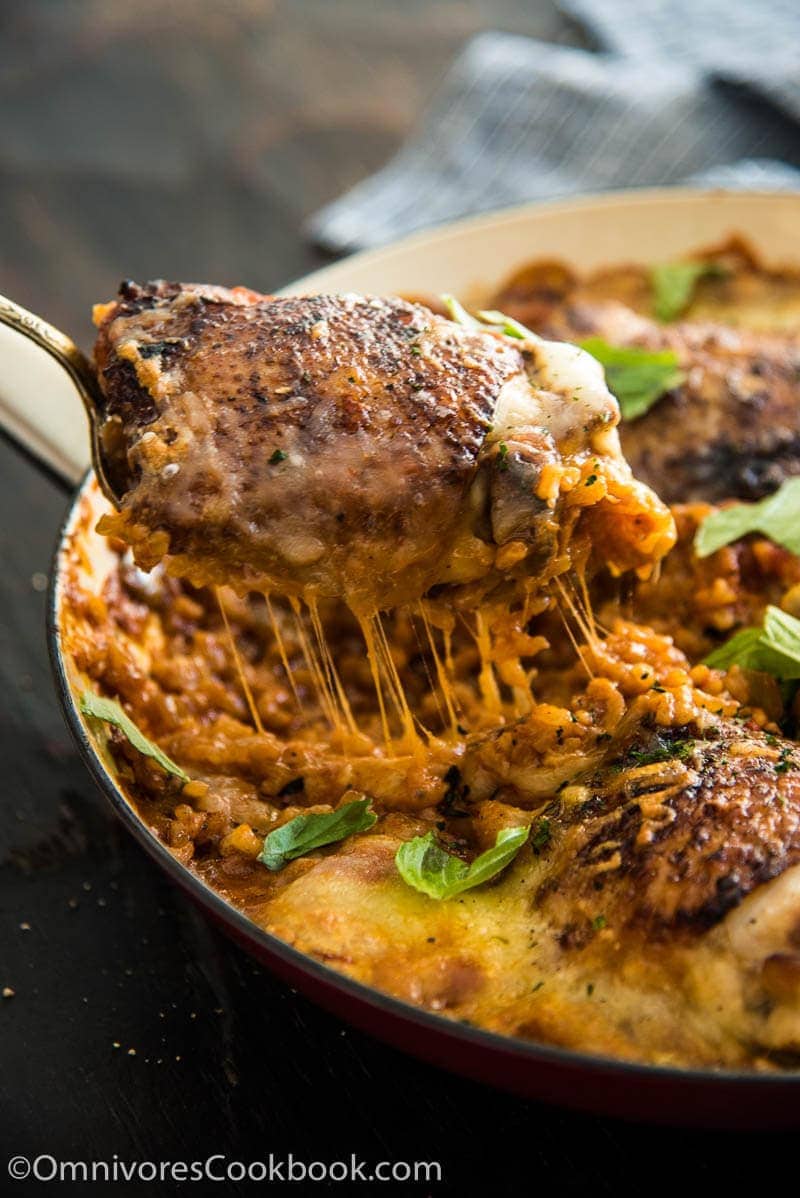 My favorite dish there was chicken doria – a rice-based dish topped with chicken, tomato sauce, and cheese. Chicken doria is quite similar to chicken and rice casserole in the US. But instead of the bechamel cream sauce, Japanese restaurants use tomato sauce or whatever sauce goes with chicken.
Some people have suggested the dish originated in Italy, but according to Japanese Wikipedia, the dish was created in Japan. Just as the hamburger ranked as the top food in Japan (I saw this on Japanese national TV back in 2008, titled the top 10 foods that Japanese people love most), Japanese chefs are very good at adapting foreign foods to local taste buds. And by the way, hamburger doria is totally a thing in Japan, and you can imagine why it would be popular.
Thinking back, it's quite amazing that I got hooked on chicken doria. It is not a dish that I'd eaten growing up. The reason I enjoyed it so much was probably that the dish combined the most comforting Asian and Western elements. That is, soy sauce marinated chicken, rice, tomato sauce, and cheese. The end results brought me the greatest satisfaction while exploring food in a foreign country.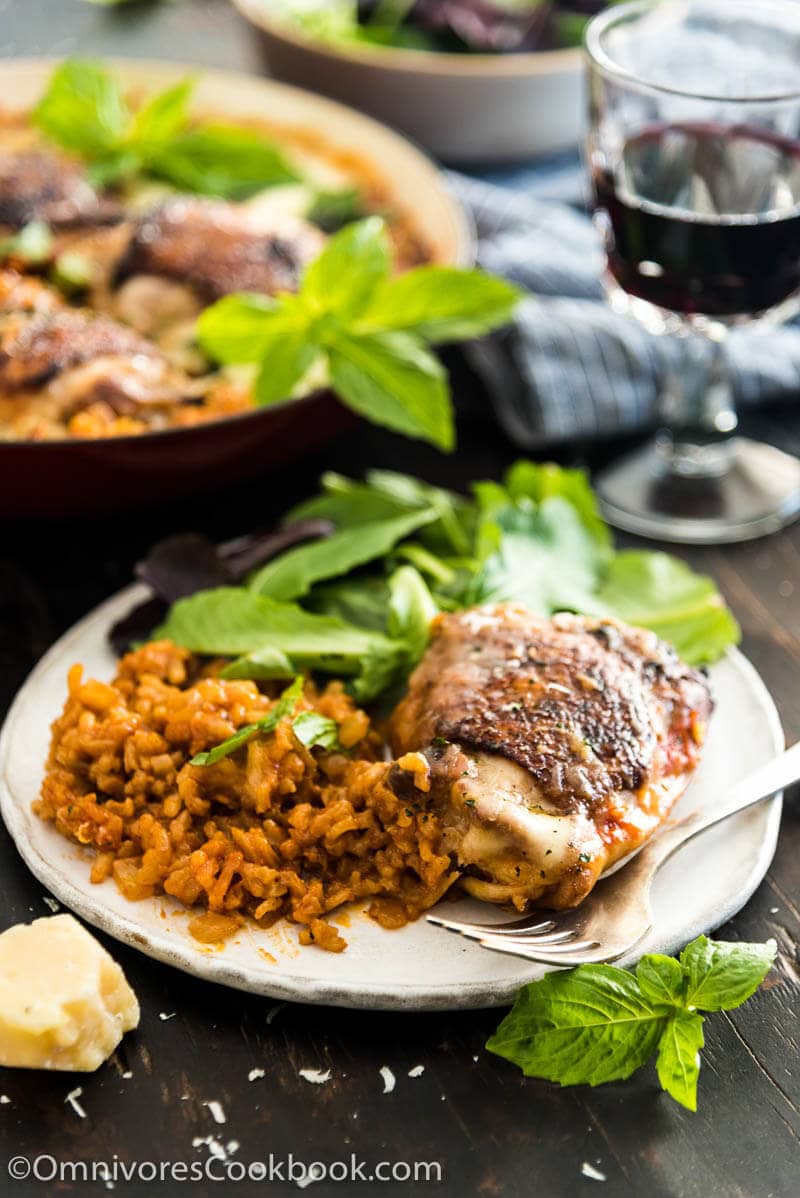 After moving back to China, chicken doria was still my obsession. I couldn't find it in any restaurants in Beijing. Cooking it at home was the only option. Like I have mentioned previously, an oven is not standard kitchen equipment in China and most families do not own one. Luckily, my parents had a toaster oven back then. Not the ideal equipment for the purpose, but at least it could melt cheese.
The way I used to cook chicken doria was to make the rice in the rice cooker, cook the pasta sauce, saute the chicken bites in the skillet, assemble everything together, and put it into the toaster oven to melt the cheese. Sounds like quite a bit of work, right?
Now, living in the US, I have the "privilege" of using a standard oven. That has opened the door to so many recipes and cooking methods for me. Now I'm amazed by the fact that I can even cook rice in the oven without burning the toppings.
Today I want to share my new version of the chicken and rice casserole, inspired by my ultimate comfort food – chicken doria – but adapted for cooking in a standard oven.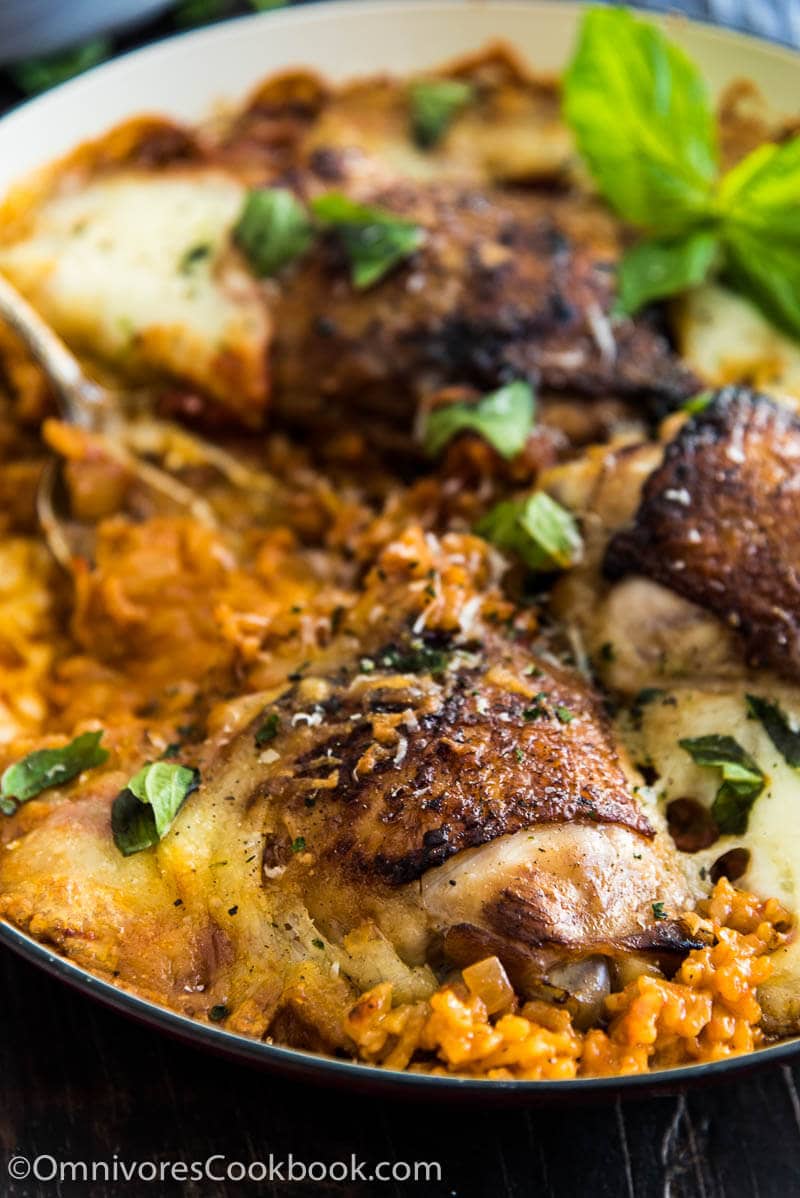 How this recipe is different from your standard chicken and rice casserole
The chicken is marinated in a soy sauce based liquid to achieve maximum flavor.
Everything is cooked in one pan and guarantees minimal clean up.
We use a moderate amount of tomato based pasta sauce and cheese to create a balanced dish that satisfies your taste buds and keeps you healthy.
Oven temperature and cooking time are adjusted to shorten the baking process to just 35 minutes.
You get crispy chicken skin with juicy meat. No chopping required and no dried out chicken!
Extra flavorful rice that is cheesy and tender. The chicken tastes great and the rice even better.
I used Ragu Pasta Sauce in this recipe because I believe in its quality. The sauce is made from fresh tomatoes that are simmered with a special blend of herbs to build a bold flavor. The sauce does not contain artificial flavors, artificial colors, or high fructose corn syrup. When you scoop the sauce from the jar, you'll find it rich and thick. I couldn't help but snack on it during the cooking!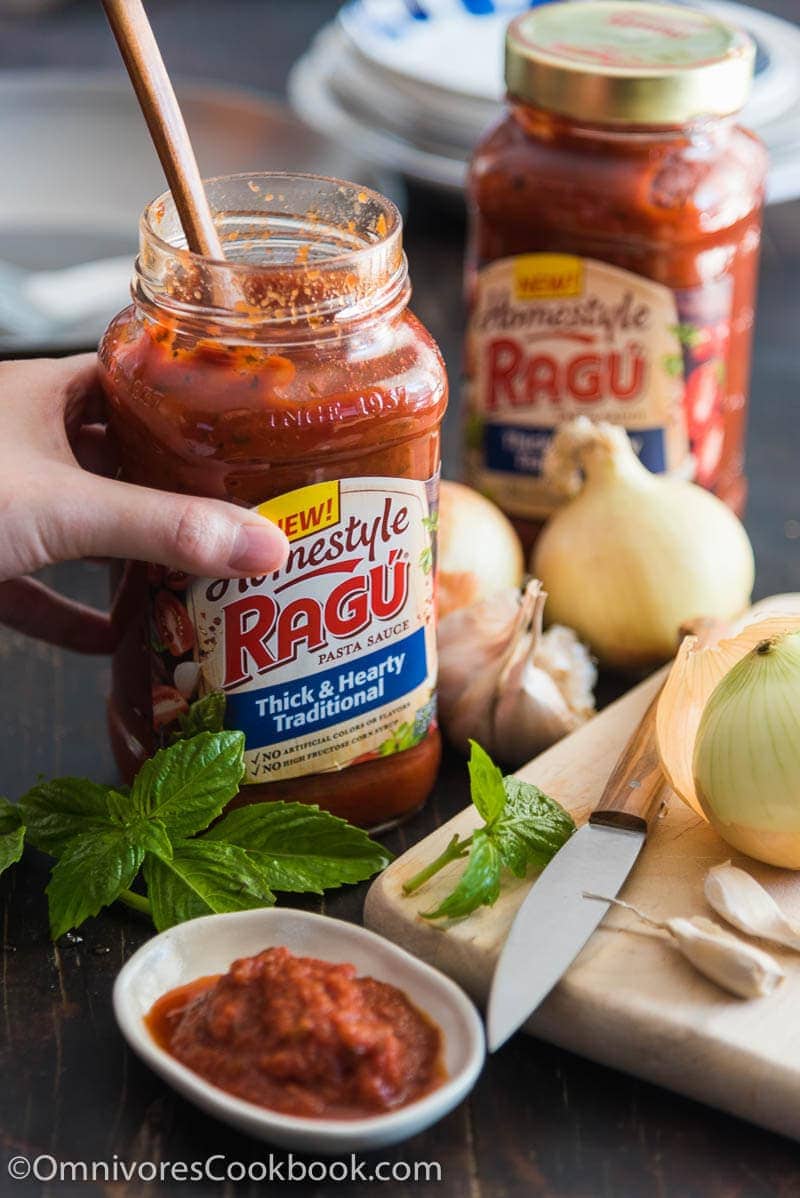 Ragu Pasta Sauce Giveaway (ended)
I'm happy to announce that I'm giving away 6 jars of Ragu Homestyle Sauce to 2 winners. Ragu Homestyle Sauce is a new product line that was just launched. You can visit the Ragu pasta sauce website to see the different flavors they offer, as well as many other comforting recipes you can cook in your kitchen.
Full Disclosure: This giveaway is sponsored by yours truly.